Dubai: Semi Permanent Make Up by Harley Street Specialist
For appointments please email info@exclusivebeautyuae.com or call LCAS at 04 375 2393.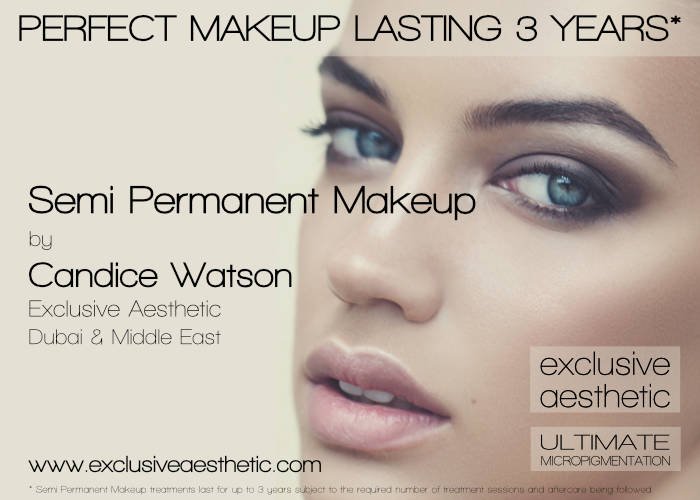 The principle or Semi Permanent Make-Up and micropigmentation, a term used for applying coloured pigments into the dermal layer of the skin enhancing your features without having to reach for your make-up bag.  Women of all ages are experiencing the difference micropigmentation and semi permanent make up can make.  After just one procedure you can have stunning smudge free make-up that will last for years to come.
What do you see when you come back from a night out, or in from the Dubai heat after a long day? Your eyeliner has run, your lip liner has disappeared and you only have half an eyebrow and nobody told you!  We have all been there and at last there is a solution:  People, Exclusive Beauty presents semi permanent make up and Cosmetic Tattooing!
Cosmetic Tattooing is subtle, natural and vital when those over plucked eyebrows have all but disappeared.  Sound too good to be true?  Well not so.  The process is simple; pigment is implanted into the skin leaving a make up effect that will last for around 2 – 5 years however we do recommend a re-touch every 12 to 18 months.  The treatment is not painful and can correct or perfect those little imperfections caused by nature, trauma or accidents.
Whether you are 18 or 88 there is a treatment that will not only help with your make up routine but improve your self esteem, confidence and looks.  We aim to create a subtle change that will have your friends guessing your newest beauty secret.
Semi permanent make up, cosmetic tattooing and micropigmentation are available at the London Centre for Aesthetic Surgery in Healthcare City, Dubai, UAE.
Please email info@exclusivebeautyuae.com for more details and current price list.
spmu-me.com is part of Exclusive Beauty – The Harley Street Specialists based in Dubai, UAE – www.exclusivebeautyuae.com.